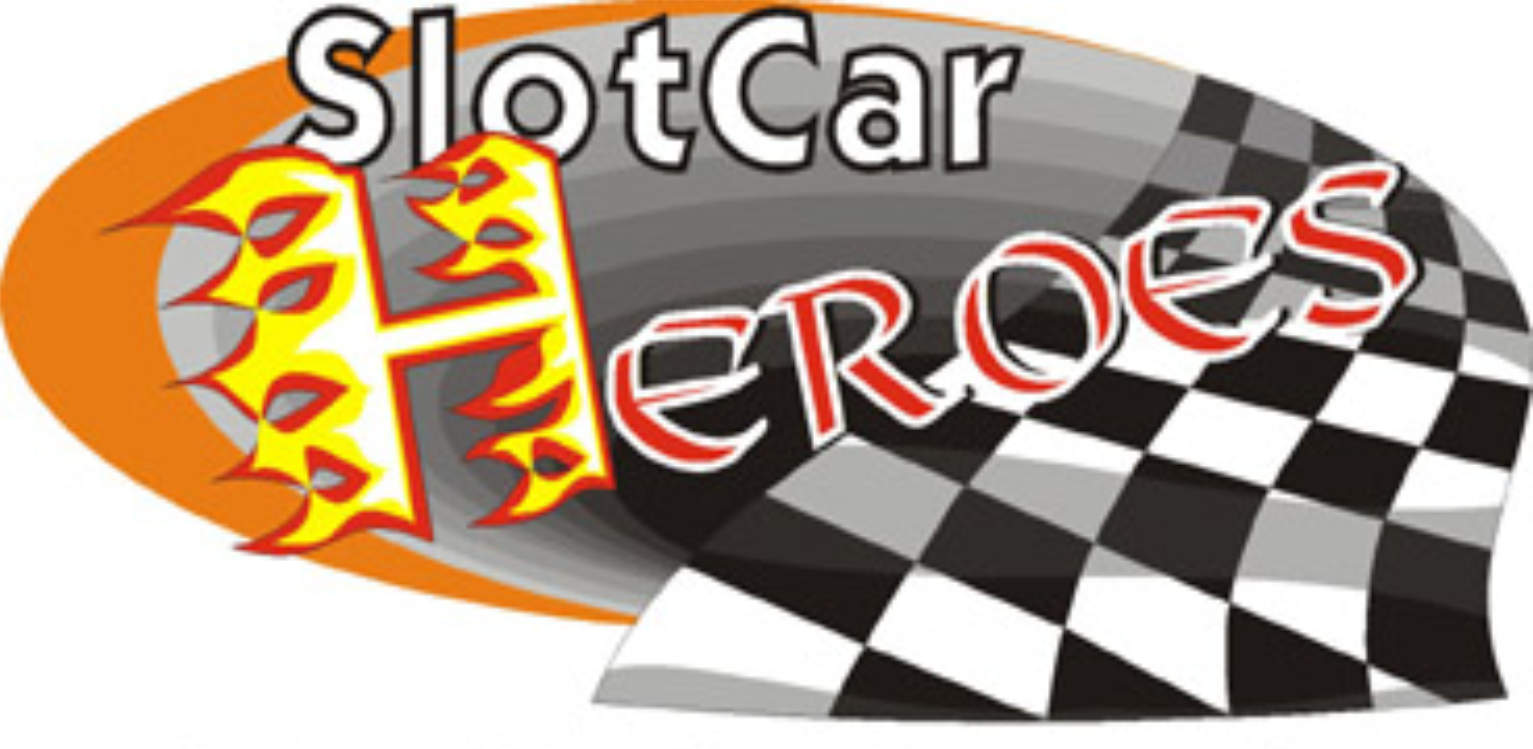 In 2005 I bought some motors and gears from "Slot Car Heroes" as upgrades for my racers at Nomad Slot Racing.   The "Heroes" website is fascinating.  Its owner, Tim Johnson demonstrates his passion for slot cars. his project development, test data and even his sources in detail. There are tutorials that show how to build his products and even his manufacturing equipment!    A history of his company includes his childhood introduction to slot cars, schooling a career path that lead to his "Slot Car Heroes" company. Tim's openness was refreshing.  His passion for slot cars was familiar. 
Asked why he was in the business, Tim replied on his website:
"Well, mostly because I'm passionate about this hobby. Designing a chassis challenges the mind to think outside the box; it stretches the powers of imagination. Finding or creating new and innovative sources for components is enjoyable. Some people think there is a great deal of money to be made in this hobby, but  there is a lot of hard work that happens behind the scenes, for which there is no monetary reward. To take up this hobby as a business, you either must have won the lottery with money to blow, or be possessed by an indescribable desire to succeed.  Since I've never won more than $2.00 from any lottery, I guess you know which category I fall into."
"And second, I'd like to see more kids find out about this extraordinary hobby. Very few people who have just watched a slot car race, or seen the cool packages in a store, have any idea what this hobby is about. Racing Slot Cars is something that must be experienced to be fully understood. This hobby can be compared to trying new food at a restaurant. You have no idea how it tastes unless you try it. And you never know, it might become your new favorite."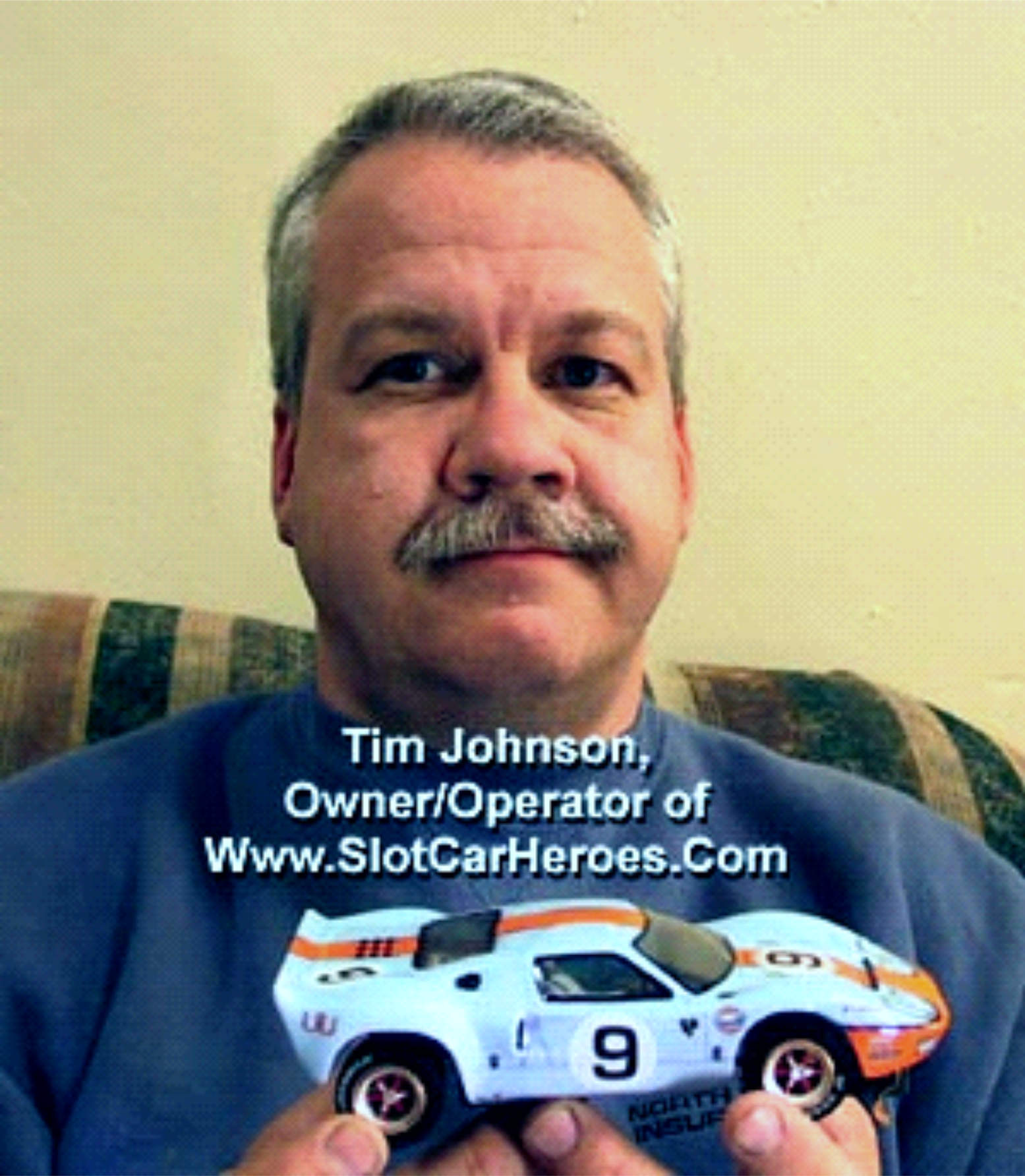 Archives show that  "Heroes" produced 1/24 scale slot cars 2002 to 2004.  The cars were accurate models of real race cars,  uniquely designed, with molds, vacuum formed and cast parts created in the shop above Tim's garage.  The detail and painting was remarkable and the chassis was well… unique.  I had to have one, but it was too late.  Tim had moved from handcrafting 1/24 cars to producing a practical if not terribly interesting stamped stainless chassis and lovely cut steel chassis kits.   But he his passion for slot cars and ambition are clear in this post:
March 7, 2006
"New Manufacturing Processes are brewing. The month of February has been a time of renewed innovation and financial commitment here at Slot Car Heroes. (SCH) We are venturing into new territories with manufacturing processes that will revolutionize, change, and add to our product line. Giant steps in will be taken in March and April that few small business manufacturers would attempt. We are excited about the possibilities, and growth potential that our new manufacturing equipment represents. Check this page often over the coming weeks and months to see what we're so excited about, and you'll be excited too!"
I was, and I did.  Then there was this:
April 10, 2006
"New CNC and Plastic Injection Molding Equipment has been installed.  Our shop  has undergone many changes the past few weeks. New workbenches, storage areas, tools, and equipment. We recently purchased a small air-powered injection molding machine that is designed for engineering and prototyping precision plastic parts. A MaxNC 10 desktop CNC (Computerized Numeric Control) mill will be used to cut and shape aluminum molds for plastic injection molding. The facility above our garage will manufacture short runs of high-quality custom plastic parts, while keeping our prices competitive in the global hobby markets.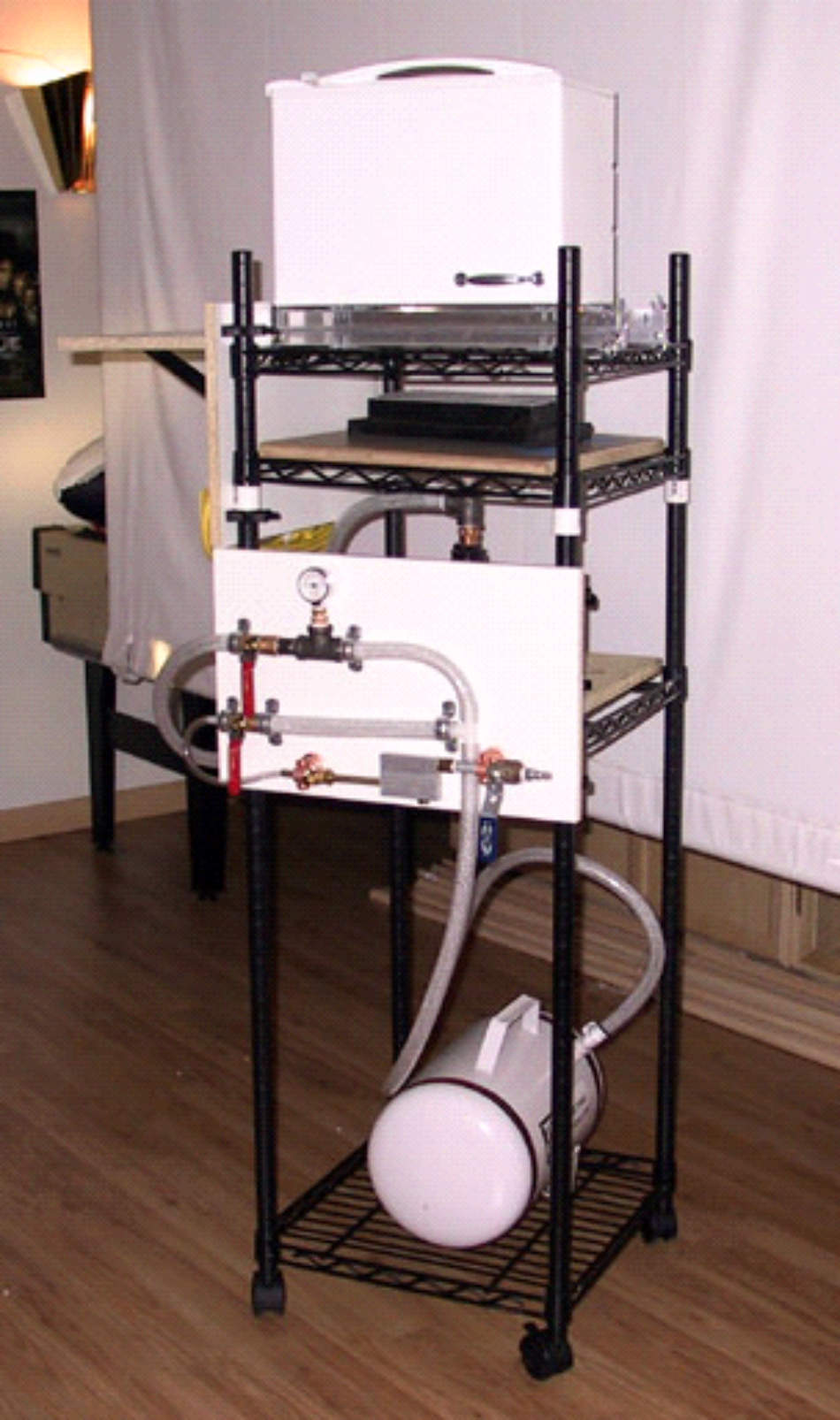 Parts that we have in mind are chassis components, driver's heads, torso's, car detailing & cosmetic elements, such as 1/32 scale engines, mirrors, interior trays, headlights, grilles, dashboards, wheel inserts, guide flags, suspension details, and more.
We are still at the beginning stages, and have much to learn about the CNC processes, molds and plastics but expect to begin producing saleable items in June.  As we get closer to production, look for additional news here on the Engineering page. Pictures of our equipment and facilities to come later."
This ambitious message was accompanied by images of prototype products including a new body and a versatile carbon fiber chassis:
Soon after:
"General health concerns have been raised about carbon fiber dust. While carbon fiber material itself is inert, dust produced while cutting and shaping carbon fiber is a known cause of lung cancer. So in respect to these concerns, we will produce this chassis in plastic rather than carbon fiber.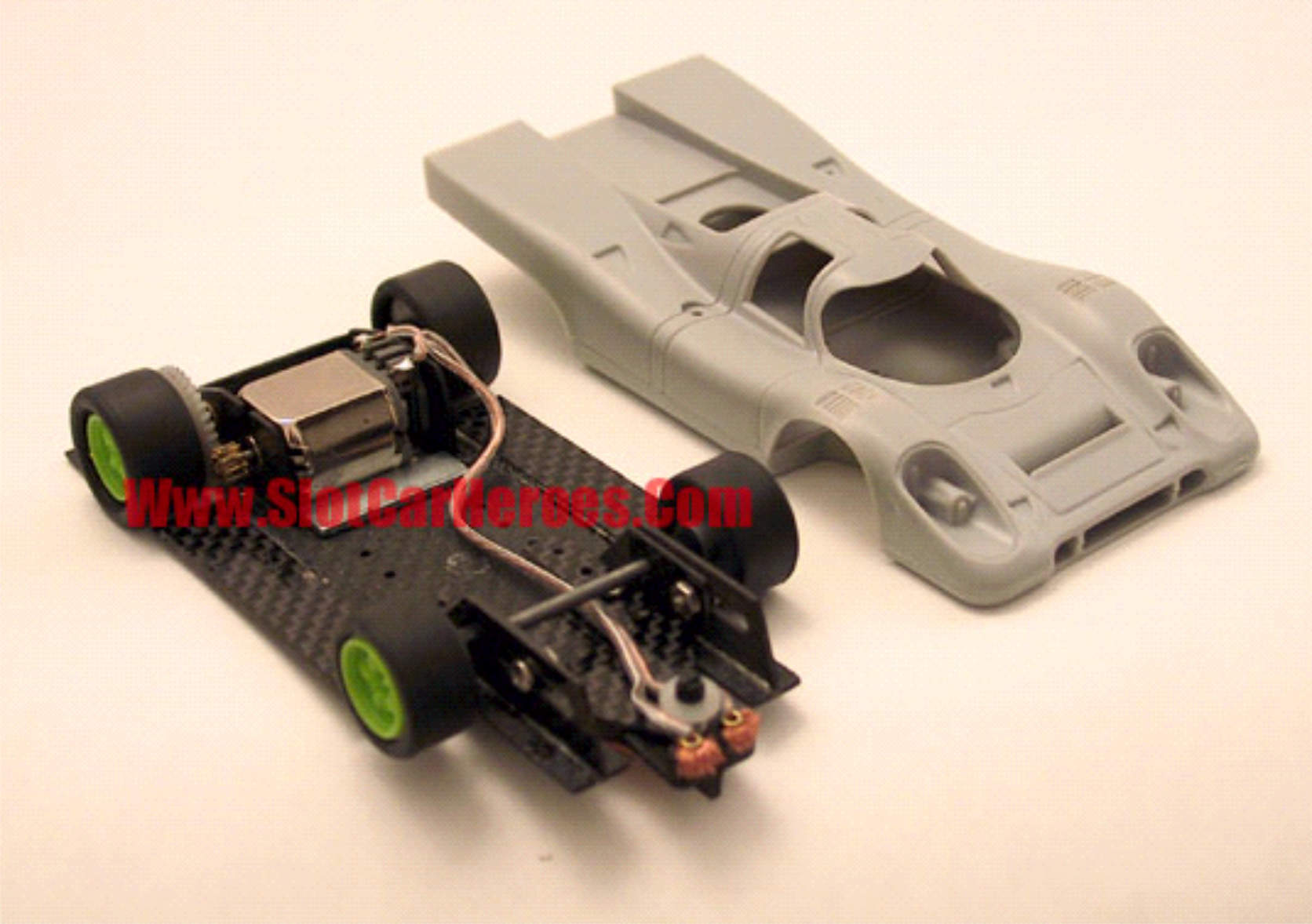 At this time, we are gearing up towards manufacturing molds to produce the chassis components. This process will likely take us several weeks until we're ready to release the chassis."
Uh oh… then:
July 3, 2006
"Production Delays: Due to technical difficulties beyond our control, we could not begin rapid prototyping in the months of April and May. And now with summer upon us, family obligations, home maintenance and emergency projects have taken center stage."
A clearance sale was announced and the last update to the website was just 7 days later. Apparently the "giant steps" had been too much. I bought some of the close-out goods, and for years have watched for Tim's return to the industry.  No sign of him, the website has been down for years and I have pulled what I can from the Wayback Archive.
Recently, Paul Quick, a fellow slot car enthusiast and great guy, offered a car for sale on a slot car newsgroup.  I thought it looked familiar and bought it.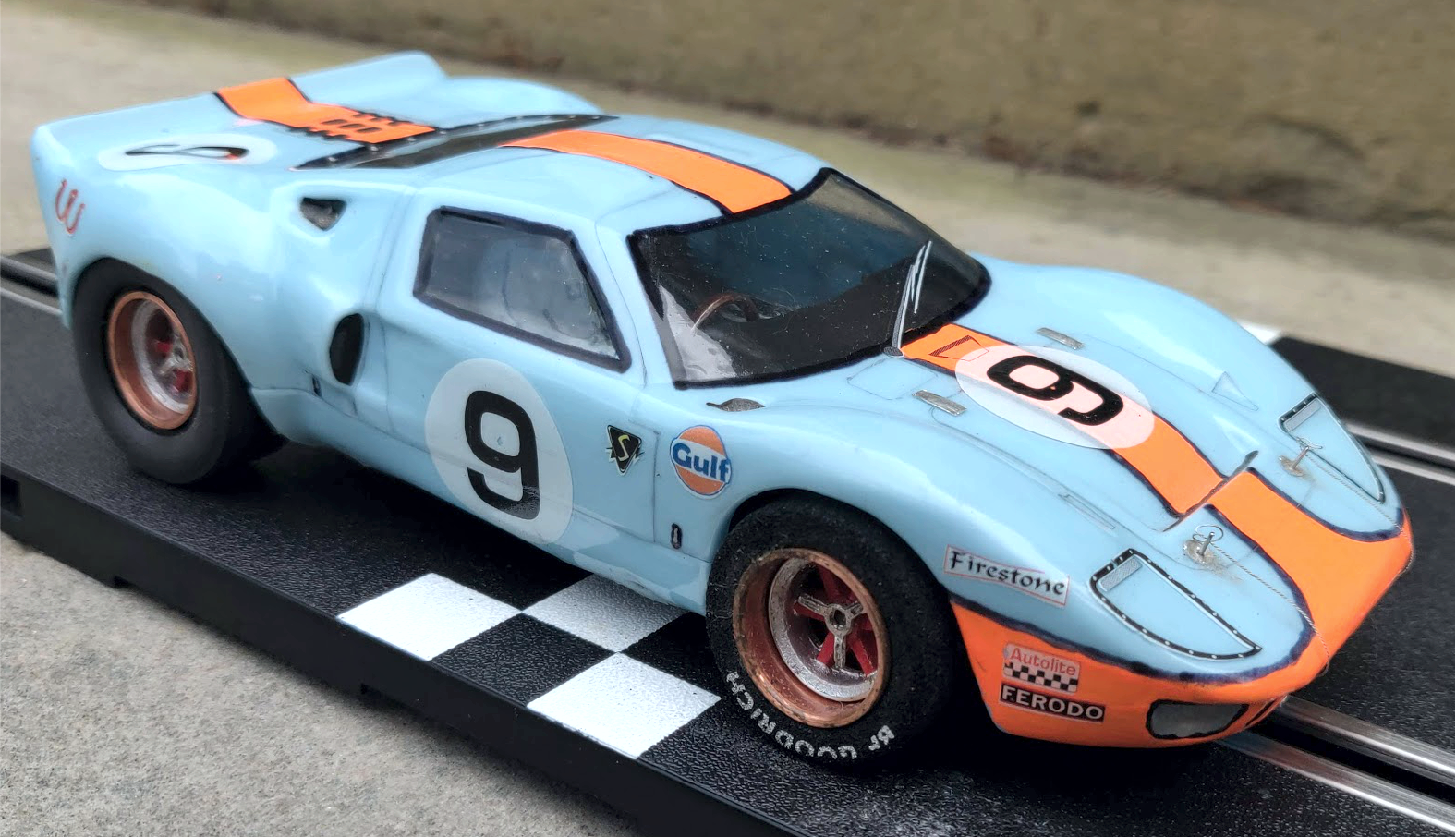 It is THE car Tim held in his website photo!  Now that it is in my slot car collection, let's take a closer look: Body detailing is very fine, including hood pins and retaining wires, all panel lines are inscribe, barely visible, but very sharp and realistic.  The car appeared to have never been on track.  The body, undertray and interior all are unique vacuum formed parts.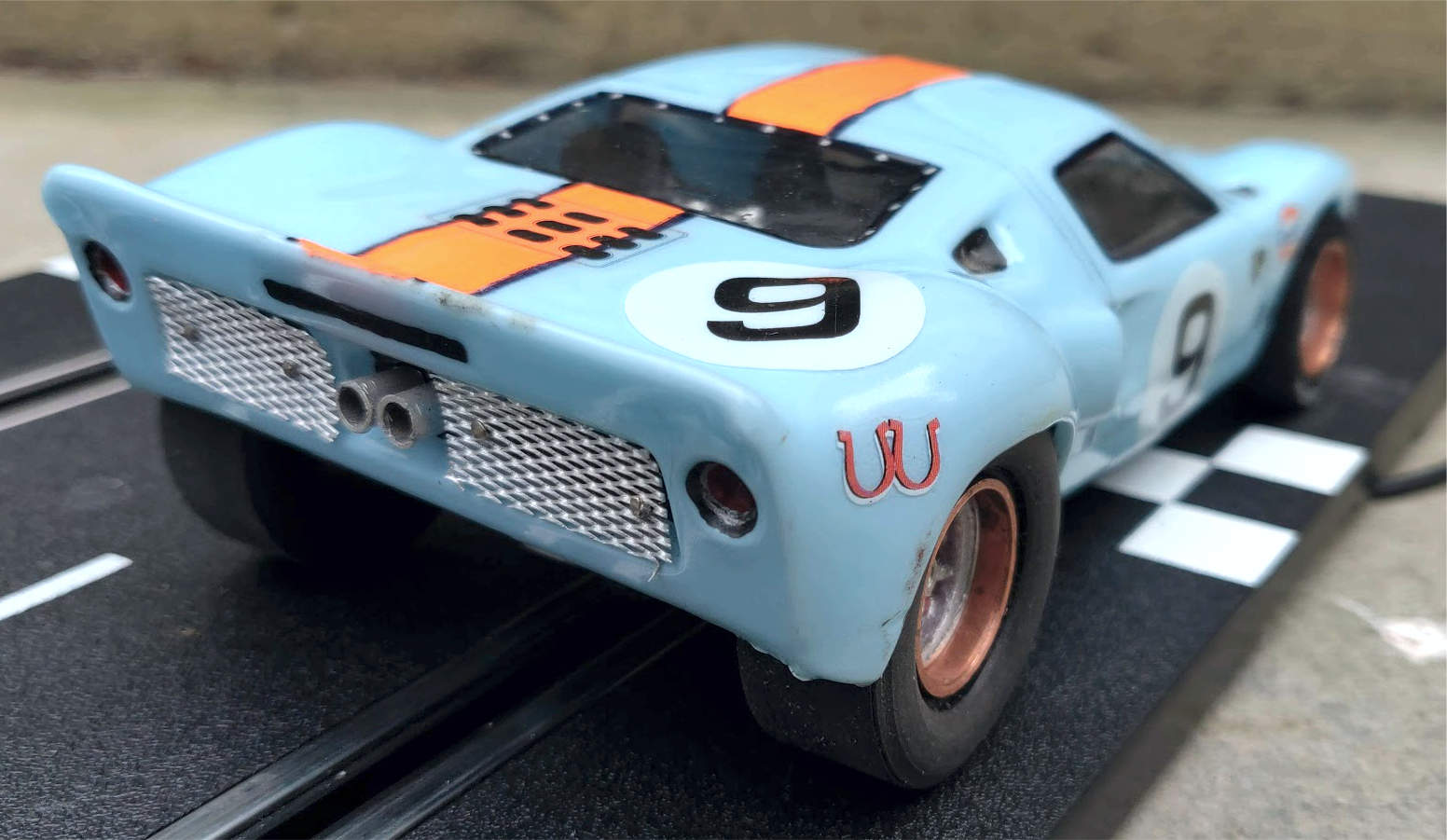 Although the Wayback website archive never captured the photos, Tim published a 4 page detailed tutorial on how he created, painted and detailed this body!
Opening the car, some explanation is needed:  From the SCH website: "That's the neat and wonderful thing about this hobby. You're not necessarily tied down to buying anything off-the-shelf. If you've got the imagination, determination, and willingness to try something new, you can build almost anything."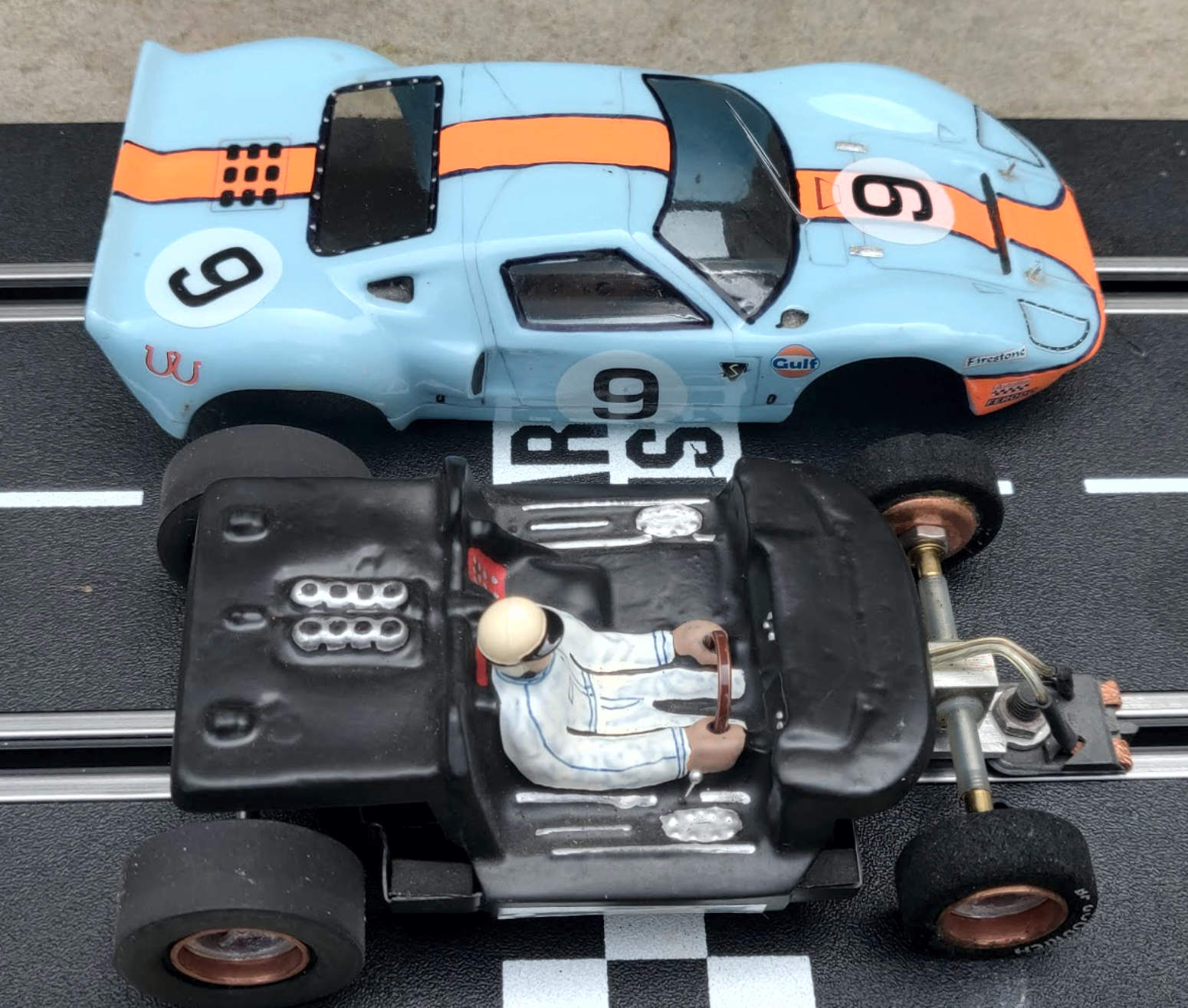 Tim was serious!  The chassis in this car is an aluminum buss bar from the Ace hardware electrical isle! The wheels are copper pipe caps from the plumbing section. The motor was initially produced exclusively for Slot Car Heroes and  sourced from China.  It is connected with speaker wire. The drop arm part of the chassis may have started as a window frame or similar extrusion.
There is a switch and diode for allowing the car to run normal analog or on a two car per lane AC system.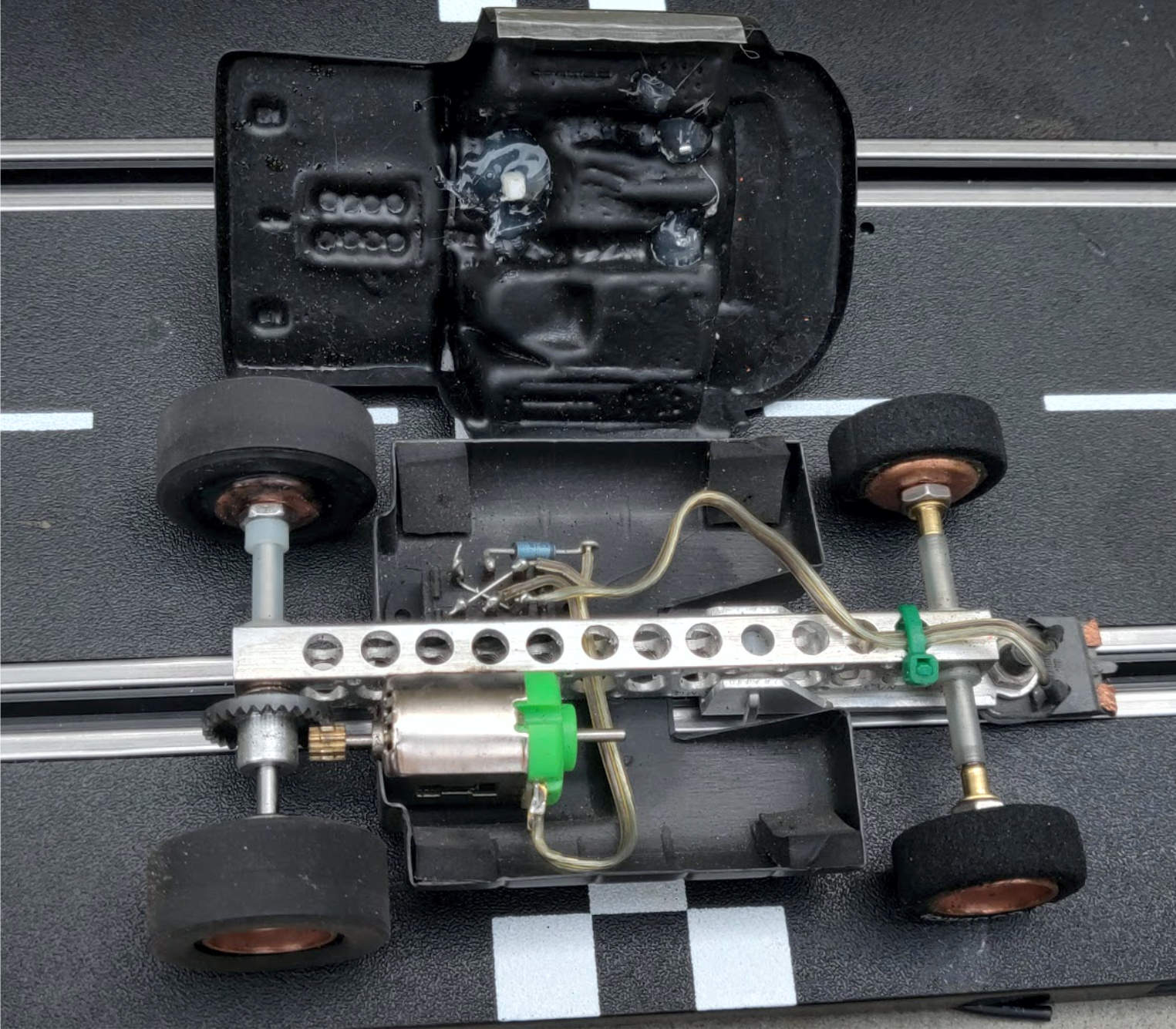 Copper rims are drilled and threaded then sandwiched between an over-sized nut and a threaded die-cast wheel insert.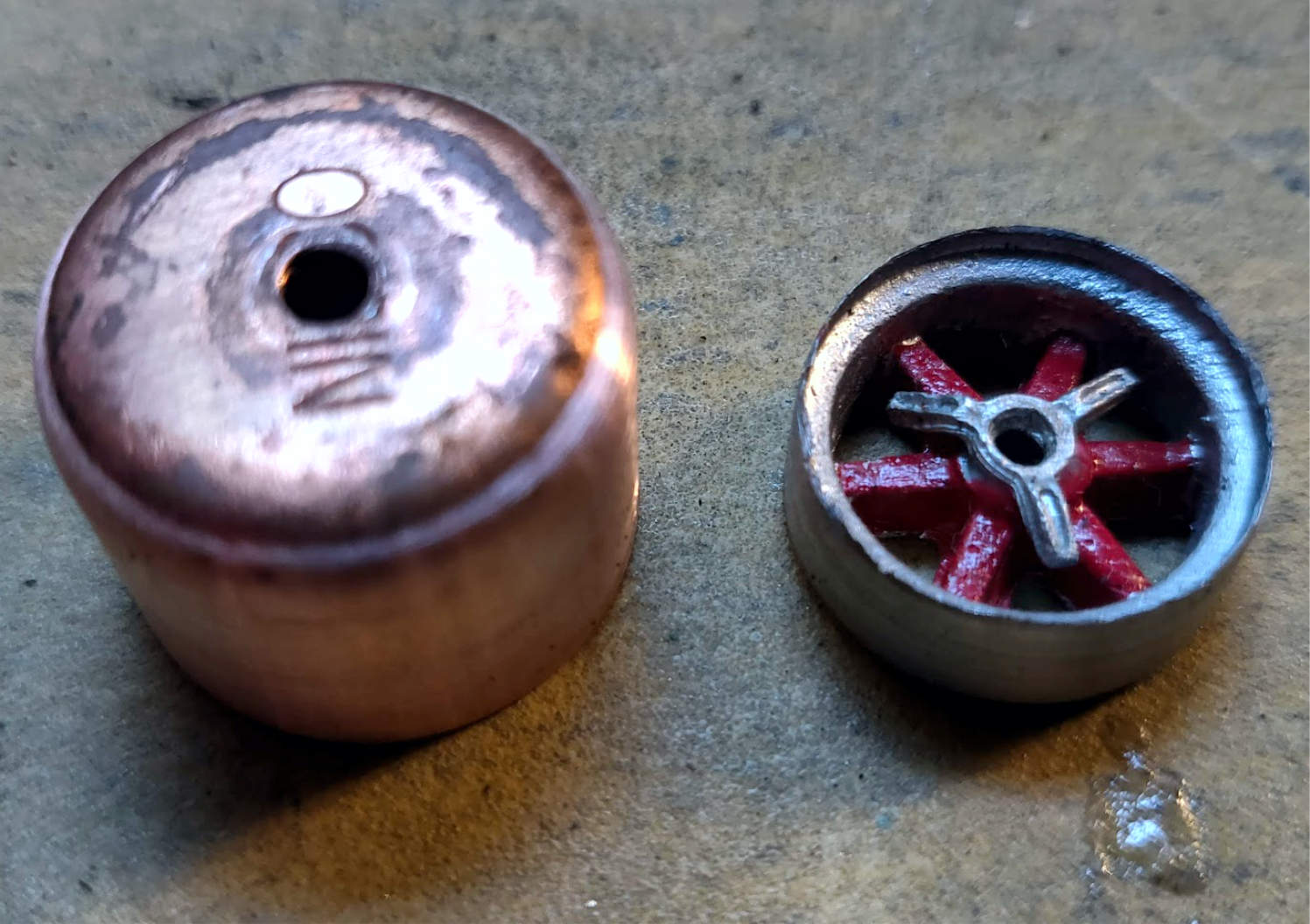 This car reminds me of my days as a 14 year old scouring the local hardware store for parts to build or improve my slot cars, tracks and model cars.
I was skeptical of performance from such a narrow chassis and copper wheels.  After a bit of adjustment and fresh rear tires, the car is now fun to drive and surprisingly quick.
There is a ton of hand work in this car's construction. I cannot imagine Tim made very many of them.  I treasure it as evidence of one hero's brave passion for slot cars, resourcefulness, innovation, selflessness, and transparency in taking on the challenge of a notoriously unprofitable industry.